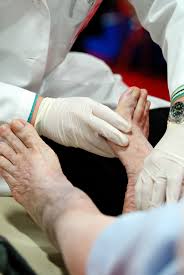 Outpatient Surgical Procedures
Undergoing a necessary but non-emergency procedure doesn't have to mean an overnight hospital stay. Many foot and ankle surgeries can be performed in a single day. Delta Foot and Ankle Associates have privileges at convenient hospital locations for their patients.
Wound Care Center
While many sores heal with time, chronic wounds are those that have not started to heal by four weeks and have not completed healing within eight weeks. Wounds that require extra care may need an evaluation and treatment plan.
Hospital Consultations
Some severe foot ailments may require hospitalization. This is especially common for those who suffer from diabetes or lower extremity infections. Consulting with a patient's physician is imperative to achieving a complete rehabilitation.
Nursing Home Visits
Offering services at the facility so the patient does not have to leave the facility decreases incidence of falls during transportation. Allowing patients to be comfortable in their own rooms equals less anxiety for the elderly.